Are You Prepared for a Plumbing Disaster?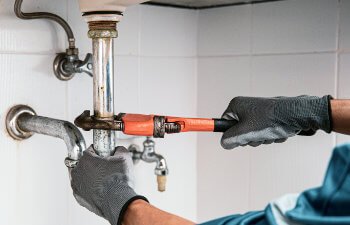 Plumbing contains a large system of pipes that travel all around your home and outside. At any point, failures, damage or blockages may result in issues. Leaks are a major problem that can cause damage to your home and pose a risk to health. It is important to rapidly respond to a plumbing disaster once you spot the signs.
You may see your utility costs increasing due to a leak. Staining in ceilings or walls could also indicate a hidden problem. Low water pressure is another telltale sign. If you have a wobbly toilet, it may result in the waste pipe loosening. If you have identified any of these symptoms, consult with Absolute Best Plumbing immediately.
Clogged Pipes
Plumbing pipes typically become clogged due to foreign objects and materials in the system. Younger children may put toys and other objects down the toilet. Grease is a common culprit that blocks pipes. It is also not advisable to dispose of hair, wet wipes, food, other organic material or anything else other than human waste in your toilets.
Unfortunately, even the most conscientious homeowners can experience a plumbing disaster. Sewer lines can burst due to tree root intrusion. When the ground around the line erodes or collapses, it can also cause the pipe to sink. Water is unable to flow downward and settles in the compromised section of the pipe.
While most plumbers are competent and trustworthy, some contractors cut corners or use improper techniques. This can result in plumbing and sewer lines that are incorrectly installed. A range of issues can lead to water not draining effectively. You may experience backups in your home or the exterior of the property.
Plumbing Inspection, Orlando
Absolute Best Plumbing can inspect your internal pipes, installations and external sewer line. We will quickly identify any potential or active issues and recommend solutions. Our repair techniques are designed to reinforce your plumbing or correct any issues.
It is essential that your system is effectively carrying water and waste away from the home. The alternative is clogging and backups that can cause a nightmare for your family. Call Absolute Best Plumbing today to avoid a disaster.
Posted on behalf of Absolute Best Plumbing
1026 28th St.
Orlando, FL 32805
Phone: (407) 930-7309