Hire a Professional for Your Faucet Installation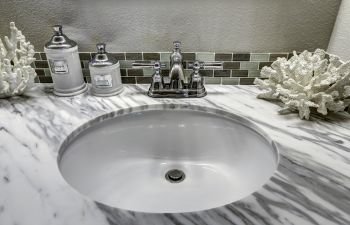 Few things are more annoying than a leaking faucet. The drip, drip, drip of water, the wetness that puddle on your counters, and the discoloration and rusting that builds up can all grate on your nerves. While it may be tempting to get on YouTube and watch a DIY video for how to fix or replace a leaking faucet, millions of people have found that this is not the ideal solution. When you need a new faucet or need repairs to an existing faucet, hire a professional!
Many people go into DIY projects watching YouTube videos and thinking that they can do it themselves, only to find that the "easiest" tasks often cause the biggest problems. Hiring a plumber is almost always the best choice for your faucet repair and installation. Here's why:
Plumbers have the right tools. Plumbing tools vary depending on the type of faucet being installed and how the sink sits in the countertop. Do you even know how to describe your sink? It is under-mounted, or does your sink drop into your counter? When you hire a professional plumber, he will already have the tools on-hand that are necessary for the job. If you attempt a DIY project, you will spend more acquiring the right tools for the job than hiring a professional to do it for you.
Plumbers know how to prevent water damage. Perhaps the most crucial aspect is that a plumber knows how to deal with a home's plumbing system. Without proper knowledge and correct handling, attempting a DIY faucet installation could leave you with an extensive leak and expensive water damage. Plumbing fixtures must be installed correctly so all components form a water-tight seal. If a single component is out of line, you could end up with a leak or a flood. The smallest leak can lead to significant water damage, causing mold or even structural damage to your home.
Plumbers can preserve any current warranties. When you hire a professional plumber, you will be able to keep all existing and new warranties. Most manufacturers will only honor warranties on fixtures that are installed by licensed professionals.
If you need faucet repair or installation, contact Absolute Best Plumbing today.
Posted on behalf of Absolute Best Plumbing
1026 28th St.
Orlando, FL 32805
Phone: (407) 930-7309