Is a Tub-Shower Conversion the Makeover Your Bathroom Needs?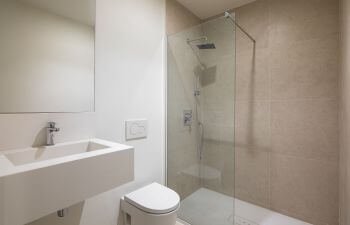 Have you decided to wait to buy a new home and want to make over some areas in your home? Whether you're changing things up due to a potential future sale or because it's time to make a change, two areas make the best investment of your money: the kitchen and the bathroom.
Why Should I Remodel My Bathroom?
Bathrooms are one of the best places to invest in your home. Unfortunately, even if you want a full remodel, it may not be feasible. Instead, you could consider upgrading the bathroom with a tub-to-shower conversion. Updating your bathroom is one of the most cost-effective makeovers you can do in your home. A tub-to-shower conversion saves you even more over a traditional remodel.
Once the kids grow up and move out, especially if the grandkids are getting older, there may not be much need for a tub. Showers can be safer, and you can add accessories like a shower chair to aid you further. The ease of a walk-in shower can be helpful if you struggle with balance or mobility. Climbing in and out of the bathtub can be more challenging as we age.
How Is a Tub Converted to a Shower?
You'll be surprised to see how quickly a qualified team can convert your bathtub into a shower. Usually, our team can do your conversion in one day. Imagine that – one day after your appointment, your bathroom will look more spacious, be much easier to clean and be safer than stepping into the tub. Even the newer walk-in tubs have a lip you have to step over to enter.
Who Do I Call for a Tub-Shower Conversion?
Are you ready for the bathroom makeover you'll see with a tub-to-shower conversion in your home? Whenever you have tub or shower changes, it's always wise to choose a professional plumber to do the work. When you hire a professional plumbing team, you can trust they have been vetted, licensed and insured, so you don't need to worry about a thing.
Contact Absolute Best Plumbing in Orlando, FL, to schedule your tub-to-shower conversion and find out how to give your bathroom a beautiful makeover in a day. We offer affordable prices, and our reputation that we'll get it done right the first time.
Posted on behalf of Absolute Best Plumbing
1026 28th St.
Orlando, FL 32805
Phone: (407) 930-7309