Is it Time to Replace Your Old Bathtub?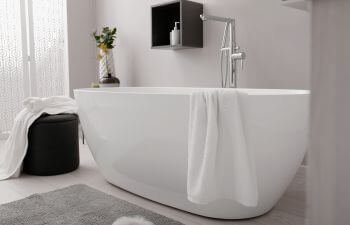 Replacing an old bathtub can provide a quick way to fix major problems. A new, modern bathtub provides an instant facelift to a bathroom showing its age, even when a full renovation isn't undertaken. Unlike older tubs, newer models come in a variety of depths, multiple size options for a better fit and can provide more accessibility for those with mobility concerns. But how do you know if it is time to replace your bathtub?
If you're unsure if it's time to let the old tub go, there are some clear signs it's time to replace the old one with something more suitable for your needs. Common reasons to replace an old bathtub include the following.
It Is Difficult to Clean
Over time, the finish on older tubs can wear down, leading to staining. No matter how hard or how often you scrub, the tub doesn't look or feel clean. This can make your bathroom less enjoyable, but can also lead to the tub harboring dirt, bacteria, mold and mildew.
It Is Leaking
If you have water pooling on the floor near your old bathtub, you could have a small leak in the tub. Not only can this damage your floors and baseboards, but water may infiltrate and damage areas you can't see. This can cause serious mold and mildew problems and create a very expensive repair job. Aside from the structural damage, it's also unsafe. You could easily slip on a puddle of water and injure yourself.
You Have Trouble Getting In or Out
If you are getting older or have existing mobility concerns, you may find it becoming more difficult to navigate entering and exiting your tub. Replacing your old bathtub with a new model can help keep you safe. It may be shallower or an easy entry model. There are many options for you to continue to enjoy your independence without compromising your safety.
Replace Your Old Tub Quickly
Most people think a quality tub renovation will take many weeks, but sometimes tubs can be installed in as little as one day. Newer bathtubs are stylish, add value to your home and enhance your overall safety. Your new bathtub will last for decades, be easier to clean and be a pleasure to look at and use. Contact Absolute Best Plumbing today to discuss replacing your old bathtub.
Posted on behalf of Absolute Best Plumbing
1026 28th St.
Orlando, FL 32805
Phone: (407) 930-7309