Is It Time to Take a Peek Inside Your Underground Pipes?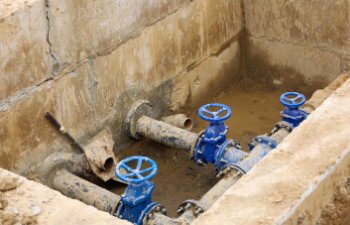 If you have not had to replace your underground water or sewer pipes at your home, count yourself lucky. This is never good news for homeowners, and it often comes as an unwanted surprise. Tree root invasion, pipe corrosion, erosion damage and other issues can be ruining your pipes without your knowledge. By the time you find out it is happening, it may be too late for a simple repair. One way you can keep an eye on your underground pipes is with preventive camera inspections.
You can have tree roots infiltrating your water pipes or sludge collecting inside your sewer line and never know there is a problem. Unfortunately, it is usually when sewage backs up into your bathroom or a sinkhole forms in your yard that you are alerted to a problem. When underground pipes are ruined, it can cost up to $10,000 or more for replacement, which can cause sticker shock for many homeowners. Many of these plumbing emergencies can be prevented with routine pipe inspections.
Digital Camera Pipe Inspections
At Absolute Best Plumbing, we use digital camera inspections to identify underground pipe problems. We have tiny cameras that can be fed down into sewer or water lines to view the interior of the pipes and diagnose problems. This is a great diagnostic tool, but it is even more valuable as a preventive procedure to keep an eye on the integrity of your underground pipes.
If you have your underground pipes inspected once a year, you could save yourself thousands of dollars. At the first sign of a tree root damaging a pipe, the problem can be fixed. A small repair is much less expensive than a complete pipe replacement that will likely be needed if you do not know there is a problem under your lawn. Plus, you get to schedule the repair, not be caught off guard when an underground pipe is clogged or breaks unexpectedly.
At Absolute Best Plumbing, we are here for you when you have a plumbing emergency like a sewer or water line problem. But we recommend having your underground pipes inspected every year to prevent these unexpected events from disrupting your life and draining your bank account. Call us today to schedule a camera inspection at your home in the greater Orlando, FL metro area.
Posted on behalf of Absolute Best Plumbing
1026 28th St.
Orlando, FL 32805
Phone: (407) 930-7309