Keeping Your Septic Tank in Peak Condition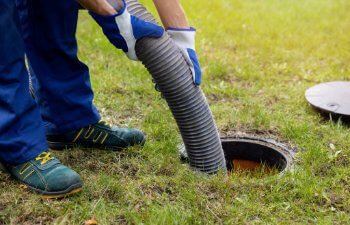 If a septic tank is an essential component of your home or business, maintenance is important. These systems are responsible for treating wastewater, as well as the materials that it carries. If you take care of a septic tank, it can last for decades. Proper care begins with only using the system to dispose of acceptable waste.
Harsh Chemicals
It is not a good idea to allow harsh chemical cleaners into your septic tank. The system relies on a delicate balance of beneficial bacteria. When this balance is upset, your septic tank is unable to effectively break down waste. Sludge and solids will begin to accumulate, which could lead to damage.
Grease & Oil
Oxygen is a core component of the processes take place inside a septic tank. By essentially blocking oxygen from penetrating wastewater, grease and oil slow down the breakdown of solids and sludge. You may also find that the septic tank needs cleaned more often due to filling faster.
Non-Biodegradable Materials
Septic tanks are designed to break down biodegradable materials. As such, you should never dispose of non-biodegradable items in toilets. Usual suspects include wet wipes, diapers and sanitary products. In addition to these items not breaking down in the tank, they can cause plumbing blockages and sewage backups.
Excessive Water Usage
It is important to control how much water your septic tank is expected to handle. The system does not have infinite capacity. Water treatments take time and may take longer than expected if other inappropriate items are slowing the process.
Septic Tank Maintenance
It is crucial to ensure that your septic tank is regularly cleaned and maintained. If you are unsure about the schedule of your current system, Absolute Best Plumbing can provide guidance and services. We take care of all the plumbing needs of our residential and commercial customers in Orlando.
Maintenance may include cleaning, completing repairs and unclogging connecting sewage pipes. Call the offices of Absolute Best Plumbing today if you would like to schedule an inspection. We look forward to helping you ensure that your septic tank remains effective and strong for decades to come.
Posted on behalf of Absolute Best Plumbing
1026 28th St.
Orlando, FL 32805
Phone: (407) 930-7309