Maintaining Your Home Solar System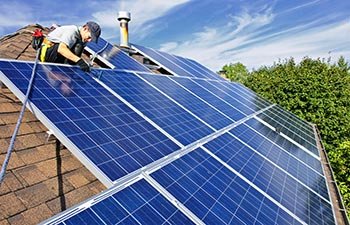 At Absolute Best Plumbing, we are one of Orlando and central Florida's leading providers of solar panel service. We are a professional plumbing contractor that is also proud to be an authorized Solene solar panel dealer. We are highly qualified to install, service, maintain, repair, and set vacation mode Solene products. When you choose to install a solar water heater to your home, you are investing in cleaner energy. Your investment needs proper maintenance to guarantee that you will receive the most substantial energy savings possible.
Solar panels have a lifespan of 25 – 30 years, and Solene solar hot water heater systems reduce water-heating costs by 75 – 90%, lowering your power bill by a significant amount. With a long lifespan and a return on investment in less than five years, solar panels are a huge benefit to your home energy costs. Although solar panel systems require little regular maintenance, you do want to properly care for your system to ensure that you get the benefits you want.
Before you decide to invest in solar panels, it is important to consider the maintenance requirements of the panels. While these systems require little maintenance, you need to 1) understand solar panel maintenance, and 2) keep in mind the warranty offered on your solar panels. Typical maintenance for solar panels is cleaning them of dirt and dust two to four times a year. Many people can do this themselves with a water hose. This basic cleaning ensures that the sun can shine brightly on the panels, maximizing the amount of light available to turn into electrical power. *If you live in close proximity to trees, you will want to clear fallen leaves and debris from your panels as quickly as possible.
When it comes to maintaining your home solar system, Absolute Best Plumbing is the name you can count on. We provide all maintenance and repair services to keep your solar hot water system working properly. To schedule Solene panel repair, maintenance, or installation service in central Florida, call us today. We look forward to serving you!
Posted on behalf of Absolute Best Plumbing
1026 28th St.
Orlando, FL 32805
Phone: (407) 930-7309