Save Money and the Environment with Solene Solar Panels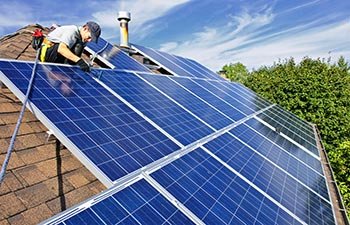 We all want to do our part when it comes to the environment, but the price of solutions like solar panels can be an expensive and scary investment. Solene solar water-heating panels use entirely different technology than most solar panels and can help you save a lot of money from day one.
What Makes Solene Solar Panels Different?
Most solar panels generate electricity, a type of solar panel called photovoltaic (PV). Solene solar panels don't generate electricity, they heat your water directly with the power of the sun, even in cold weather and when it's cloudy. Solene solar water-heating panels can keep your home warm and supply most of your water-heating needs. You can even use them to heat your pool.
Efficient water-heating panels work even when it's cold outside, and they are designed not to freeze. Solene solar panels can easily be integrated into your existing water system, making installation simple and convenient. Solene solar panels are more dependable than traditional water heaters due to the highest quality materials and advanced engineering. Solene systems don't just warm your water a little, but they truly heat the water to high temperatures that you would expect from any other water-heating system.
How Solene Water-heating Panels Can Save You Money
Solene panels will save you money by reducing the energy required to heat your water. You can expect up to an 85% reduction in your water-heating bill. Solene water-heating systems require very low maintenance and usually remain trouble-free for years. All Solene systems are backed by an unprecedented warranty, giving you peace of mind. If maintenance or repair is ever required, it will always remain affordable.
Not only do Solene panels reduce your water-heating costs, but they can also help you lower your taxable income and provide you with a 30% Federal Tax Credit. Additionally, utility, state and local rebates may be available to save you even more money.
Solene solar panels can pay for themselves in just 1-5 years, and if you're still worried about the cost, Solene offers special financing for those who qualify.
To find out if the latest in water-heating technology can save you money and help the environment, contact our Solar Panels Service & Maintenance Contractors or call Absolute Best Plumbing today at (407) 930-7309. Absolute Best Plumbing is an authorized Solene dealer and a leading provider of solar panel services in Orlando and central Florida.
Posted on behalf of Absolute Best Plumbing
1026 28th St.
Orlando, FL 32805
Phone: (407) 930-7309