Should I Use Solar Panels in Florida?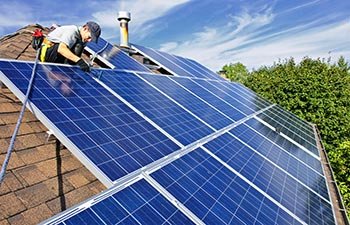 Florida is the land of sunshine, so solar panels can be a smart add-on to your home. The essential step in the process of deciding if you should invest in solar panels is to talk to a certified professional trained in all phases of solar panels, from installation to maintenance to repair. An authorized solar panel dealer will know all the ins and outs you need to know before scheduling your install.
How Can Solar Power Be Used?
Solar panels can heat the water in your home. They can provide the electricity your home needs to operate smoothly. In addition, solar panels can be used to provide heat when the weather turns cool. You can use solar power for all your electrical needs, lighting and heat.
Will I Save Money If I Use Solar Power in Florida?
Throughout most of the country, this answer would be yes, of course. Florida happens to have some of the lowest electrical costs around, so the savings are higher in wintry weather states or places where electricity runs high.
If you and your family consume electricity during the day, you could save a substantial amount on your electric bill. Sunshine is a daily renewable resource in Florida, and you can harness it to save some money.
Installing solar panels will lower your taxable income, as well as provide a 30% Federal Tax Credit. In addition, there may be state or local credits or rebates available as well, saving you more.
Are There Downfalls to Solar Panels in Florida?
Solar panels don't work in the dark. You need to hire a professional to install and maintain them. You do need the proper orientation of your home for solar power to be optimal. A professional installer can help you determine what's best for you and your needs.
Solar panels are an investment in your property. They can be life-saving in the event of a hurricane or other tragedy that knocks out the power for an extended time. In addition, they operate on a renewable resource in abundant supply.
At Absolute Best Plumbing, we are also experienced and trained in solar panel installation and repair. We are an authorized Solene solar panel dealer; we are highly qualified to install, service, maintain, repair and set vacation mode Solene products. To find out more about if solar panels are the right step for you, call Absolute Best today at (407) 930-7309.
Posted on behalf of Absolute Best Plumbing
1026 28th St.
Orlando, FL 32805
Phone: (407) 930-7309