The Quickest Way to Remodel Your Bathroom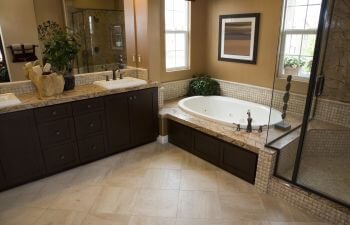 Bathrooms are one of the busiest rooms in the house and can begin to look rundown over time. One of the largest portions of the bathroom is the bathtub or shower area, which can impact the overall appearance of your bathroom. If your bathroom needs a new look, one of the quickest ways to perform bathroom remodeling is with a shower or bathtub replacement.
One-Day Shower and Bathtub Replacements
At Absolute Best Plumbing, we offer fast bathtub and shower replacements that can give your bathroom a new look. If your shower is mildew stained or you want to replace your bathtub with a shower, we can often perform the bathroom remodel in as little as one day. We offer the following options for rejuvenating the appearance and function of your bathroom.
Shower replacements. Choose a new color, shape or style for your shower. We have quality shower enclosures that are mildew, chip and fade resistant, making them easier to keep looking beautiful for years to come.
Bathtub replacements. Is your bathtub too small or stained from years of use? Replace your old tub and enjoy the benefits of a new tub that is easier to maintain and offers the features you want for your bath time.
Tub-to-shower conversions. If you want a modern shower instead of your bathtub, consider a quick tub-to-shower conversion. This can give your bathroom a larger and more modern appearance.
Replacing your tub or shower can make a big difference in the style and appearance of your bathroom. Not only does it increase your enjoyment of your shower or bath time, but it can also add value to your home. With our quick tub and shower replacement options, you do not need to be without your bathroom for days or weeks. Many bathroom remodeling projects can be completed in just one day.
If you want to give your bathroom a new look with a new tub or shower, give us a call at Absolute Best Plumbing. Call our office in Orlando, FL to get a quote on a fast tub or shower replacement.
Posted on behalf of Absolute Best Plumbing
1026 28th St.
Orlando, FL 32805
Phone: (407) 930-7309