Update Your Bathroom with a Tub-to-Shower Conversion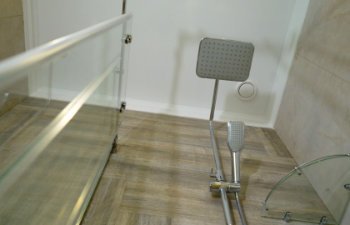 Are you tired of stepping over the high walls of your bathtub to take a shower? Does your bathroom feel crowded or look aesthetically outdated? If so, it may be time to consider a tub-to-shower conversion. This simple upgrade can transform your bathroom, making it more functional, accessible, and stylish. Here are some of the benefits of a tub-to-shower transformation and how it can update and improve your bathroom.
Increased Safety
A tub-to-shower conversion can make your bathroom safer by eliminating the need to step over a high tub wall. With a low-threshold shower, you can enter and exit the shower safely and with ease, reducing the risk of slips, trips, and falls. Additionally, you can install grab bars, non-slip flooring, and other safety features to further reduce the risk of accidents.
Improved Accessibility
For many people, stepping into a bathtub can be difficult or impossible due to mobility issues. A tub-to-shower conversion can make your bathroom more accessible by creating a barrier-free shower that is easy to use for everyone. This is especially important for seniors, individuals with disabilities, and anyone who wants to age in place.
Enhanced Functionality
Showers are generally more functional than bathtubs. They are easier to clean, faster to use, and more water-efficient. With a tub-to-shower conversion, you can enjoy all the benefits of a shower while still maintaining the option to bathe in a separate space, such as a guest bathroom.
Increased Space
Removing a bathtub and replacing it with a shower can free up valuable floor space in your bathroom. This can make the room feel larger and more open, giving you more room to move around and store your essentials. A tub-to-shower conversion can also make your bathroom feel more modern and streamlined.
Improved Aesthetics
Showers are available in a wide range of styles, colors, and materials, allowing you to customize the look of your bathroom. Whether you prefer a traditional, contemporary, or transitional design, there is a shower option that will suit your taste. Frameless glass walls or doorless stone showers are some of the trends in contemporary showers that can replace an outdated tub or tub/shower combination. A tub-to-shower conversion can also increase the value of your home by making it more attractive to potential buyers.
If you are looking to improve the safety, accessibility, functionality, and aesthetics of your bathroom, a tub-to-shower conversion is definitely worth considering. This simple upgrade can make a big difference in your daily life, allowing you to enjoy your bathroom to the fullest. To learn more about tub-to-shower conversions and how they can update your bathroom, contact our team at Absolute Best Plumbing. We provide stunning bathroom remodels, including tub-to-shower conversions, in the greater Orlando, FL, area. Many tub-to-shower modifications can be completed in one day! Call us today to schedule a bathroom remodel consultation.
Posted on behalf of Absolute Best Plumbing
1026 28th St.
Orlando, FL 32805
Phone: (407) 930-7309