What if Repiping Is Your Only Option?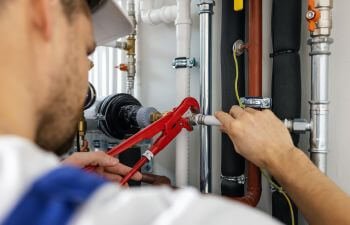 Plumbing repairs can be as simple as replacing a washer or a faucet, or they can be an ongoing issue that never seems to end, especially if you live in an older home or one with Polybutylene piping. But what can you do when the piping system in your home keeps leaking and causing problems? It may be time for repiping throughout the house.
What is Repiping?
Repiping is as dramatic as it sounds. When a home needs repiping, all the piping throughout the house must be removed and replaced with new pipes. While the result is fabulous, the process can feel overwhelming. It's a big job, and it can get expensive. But, when the alternative is continuous leaking and even pipes breaking and causing water damage, you know it's time to fix things, once and for all.
When Does a Home Need Repiping?
There are some cases where repiping is simply a matter of age. If your home is older with original plumbing, it could be time to update your pipes with new ones. All plumbing wears out over time, so don't put it off when this issue becomes apparent. Instead, repiping the house will eliminate the leaks and keep you in solid plumbing for years.
Sometimes pipes are damaged and compromised due to tree roots breaking through the lines. When this damage is beyond repair, repiping is the answer.
Some homes need repiping due to the plumbing materials used during construction. From 1978 to 1995, a plastic resin material called Polybutylene was used instead of copper in about 6 million homes across the country. Polybutylene was cheaper and easier to install than traditional copper plumbing.
Unfortunately, over time, it became obvious that Polybutylene was not superior to copper at all. As a result, the pipes can be very susceptible to leaking and even breaking. If your home has Polybutylene plumbing, it could be lowering the value of your home. Before you wind up with extensive water damage problems, it's better to have the Polybutylene pipes removed and replaced.
If you're concerned about the plumbing in your home, contact Absolute Best Plumbing and talk to one of our team members to schedule an estimate. One of our expert technicians will come out and do a complete inspection of your pipes and offer our best recommendation for repair or replacement. Call Absolute Best Plumbing today at (407) 930-7309.
Posted on behalf of Absolute Best Plumbing
1026 28th St.
Orlando, FL 32805
Phone: (407) 930-7309